Lyndongraey

Field Spaniels, Maine Coons & Siberians

Siberian Show News
This page will be regularly updated with show results, as we regularly show our cats throughout the year.
2010 NEWS / SHOWS / RESULTS
WOW what another good year showing our Siberians
Nikolai was Best In Show 8 times this year and is the only Cream Colourpoint boy to have acheived the title of Fife International Champion - to say we are very proud of him is an under statement. Nikolai is following in his dad's pawprints.
~~~
Tuvia was shown only once this year but won his class, hopefully he will do well next year.
~~~
Anastasia also became a mum for the fifth time and I have at long last kept one of her babies, little Tatyana who is a right little pickle.
~~~
I mustn't forget to mention Lyndongraey Borya who is owned by Heather Clayson. Borya became a Grand International Premier
Heather also owns Sacha who became a Fife International Premier
~~~
Two more up and coming stars are owned by Sandra and Tony who already have Madison and Merlin (Maine Coons). Sky and Star have been shown four times this year and both acheived their Premier titles and Star was Best In Show Female Neuter at the Siberian Special Show. Fingers crossed for more wins next year.
Thank you to all the judges concerned
~~~
We also welcomed to the UK our new female Siberian Liliya, who was pregnant when she arrived. She had 6 wonderful kittens and two have remained here at our Cattery, Riga and Laska. Both did well at their first show where Riga was Best In Show 3 - 6 Month Kitten at the Siberian Speciality Show. I will be showing both next year along with their mum.
~~~
We also had very sad news this year as we have been told of one of our Siberian babies who lived with his new family is now at Rainbow Bridge after a very tragic freak accident
Boris
Lyndongraey Boris

THE VIKING CAT CLUB, INCLUDING SIBERIAN SPECIAL
RUGBY 05 DECEMBER 2010 (FB SHOW)
RIGA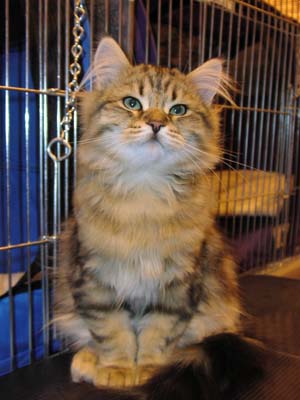 Riga at his first show
Ex. 1, Best in Variety, Nomination & BEST IN SHOW KITTEN
Judge : Mrs. Angelika Kneifel (Germany)
Judges comments : Excellent, attractive
TATYANA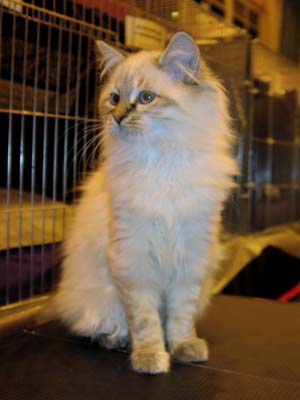 Tati at her first show
Ex. 1, & Nomination
Judge : Mrs. Francoise Milcent (France)
Judges comments : Excellent, a sweet baby
GORISLAVA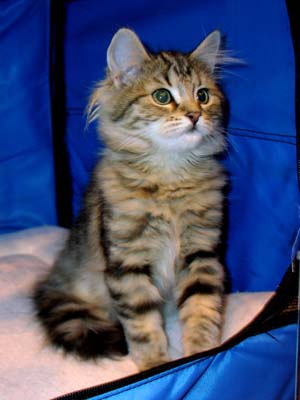 Gorislava at her first show
Ex. 1,
Judge : Mrs. Angelika Kneifel (Germany)
Judges comments : Excellent and in development
KRASNYI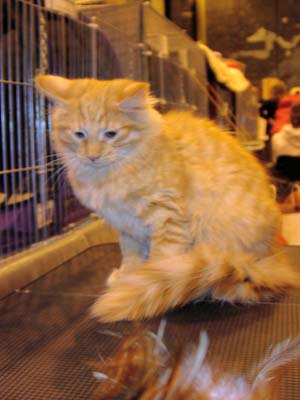 Krasnyi at her first show
Ex. 2
Judge : Mrs. Angelika Kneifel (Germany)
Judges comments : Excellent, well grown
STAR
Ex. 1 & 1st CAPIB, Nomination & BEST FEMALE NEUTER IN SHOW
Judge : Mrs. Angelika Kneifel (Germany)
Judges comments :
Owned by Sandra & Tony Nicklen

SKY
Ex. 1 & 1st CAPIB
Judge : Mrs. Angelika Kneifel (Germany)
Judges comments :
Owned by Sandra & Tony Nicklen


THE FB WINNERS SHOW, MILTON KEYNES 07 NOVEMBER 2010 (FB SHOW)
NIKOLAI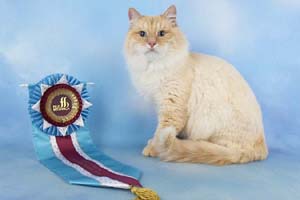 Photo by Bob Fox
Nikolai with his BIS Rosette
Ex. 1, 5th CACIB, Nomination & BEST IN SHOW
Judge : Mr. Rolf Voehringer (Switzerland)
Judges comments : Lovely boy
Nikolai became an International Champion today - the only cream point International Champion in the UK, he is now known as Fife International Champion Lyndongraey Vassiliy's Star

MAINE COON GUILD SHOW, EDENBRIDGE 03 OCTOBER 2010 (FB SHOW)
NIKOLAI
Ex. 1, 4th CACIB
Judge : Mrs. Beverley Elian (Romania)
Judges comments : Needs time to develop, very sweet boy
Nikolai was also awarded the best Non Maine Coon in Category II for the
Maine Coon Guild Points Award
SACHA
Ex. 1 & 1st CAGPIB
Judge : Mrs. Beverley Elian (Romania)
Judges comments :
Owned by Heather Clayson

GARDEN OF ENGLAND CAT CLUB, SEVENOAKS 15 AUGUST 2010 (FB SHOW)
NIKOLAI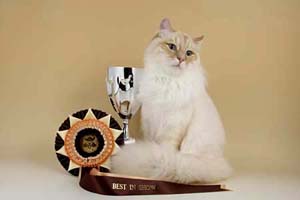 Photo by Bob Fox
Nikolai with his BIS trophy & rosette
Ex. 1, 3rd CACIB, Nomination & BEST IN SHOW
Judge : Mr. F. Calmes (France)
Judges comments : Nice condition, easy to handle, sweet temper
SACHA
Ex. 1 & 5th CAPIB
Judge : Mrs. S. Bruin (Netherlands)
Judges comments : A very gentle boy
Owned by Heather Clayson
Sacha became an International Premier today, he is now known as
Fife International Premier Lyndongraey Erazm

GARDEN OF ENGLAND CAT CLUB, SEVENOAKS 14 AUGUST 2010 (FB SHOW)
NIKOLAI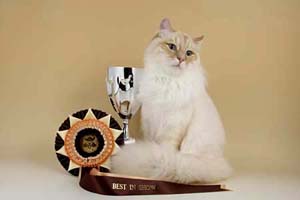 Photo by Bob Fox
Nikolai with his BIS trophy & rosette
Ex. 1, 2nd CACIB, Nomination & BEST IN SHOW
Judge : Mr. L. Coste (France)
Judges comments : Excellent, nice size and balance
SACHA
Ex. 1 & 4th CAPIB
Judge : Mr. L. Coste (France)
Judges comments : A very compact one
Owned by Heather Clayson

THE ARISTOCATS CAT CLUB, TIDWORTH 13 JUNE 2010 (FB SHOW)
NIKOLAI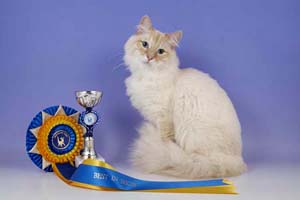 Photo by Bob Fox
Nikolai with his BIS trophy & rosette
Ex. 1, 1st CACIB, Nomination & BEST IN SHOW
Judge : Mr. Sebastian Pruchniac (Poland)
Judges comments : Excellent, sweet boy
STAR
Ex. 1 & 3rd CAP
Judge : Mr. Gianfranco Mantovanni (Italy)
Judges comments : Well presented, lovely expression
Owned by Sandra & Tony Nicklen
Star became a Premier today, she is now known as
Fife Premier Lyndongraey Feoktista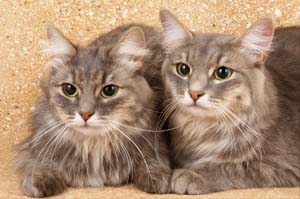 Photo by Bob Fox
New title holders - Star & Sky
SKY
Ex. 1 & 3rd CAP
Judge : Mr. Gianfranco Mantovanni (Italy)
Judges comments : Well presented, lovely expression
Owned by Sandra & Tony Nicklen
Sky became a Premier today, she is now known as
Fife Premier Lyndongraey Feodora
SACHA
Ex. 1 & 3rd CAPIB
Judge : Mr. Gianfranco Mantovanni (Italy)
Judges comments : Lovely sweet open expression
Owned by Heather Clayson

THE ARISTOCATS CAT CLUB, TIDWORTH 12 JUNE 2010 (FB SHOW)
NIKOLAI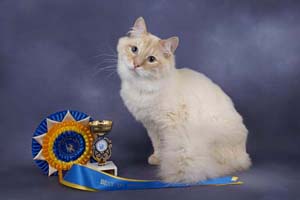 Photo by Bob Fox
Nikolai with his BIS trophy & rosette
Ex. 1, 3rd CAC, Nomination & BEST IN SHOW
Judge : Mr. Gianfranco Mantovanni (Italy)
Judges comments : Lovely expression, but he needs to finish himself
Nikolai became a Champion today - the only cream point Champion in the UK, he is now known as
Fife Champion Lyndongraey Vassiliy's Star
STAR
Ex. 1 & 2nd CAP
Judge : Mr. Sebastian Pruchniac (Poland)
Judges comments : Excellent sweet girl
Owned by Sandra & Tony Nicklen
SKY
Ex. 1 & 2nd CAP
Judge : Mr. Sebastian Pruchniac (Poland)
Judges comments : Excellent, sweet girl
Owned by Sandra & Tony Nicklen

GARDEN OF ENGLAND CAT CLUB, SEVENOAKS 28 FEBRUARY 2010 (FB SHOW)
NIKOLAI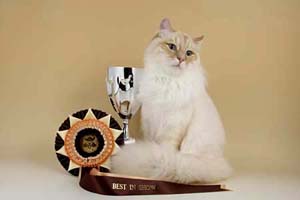 Photo by Bob Fox
Nikolai with his BIS trophy & rosette
2nd CAC, Nomination & BEST IN SHOW
Judge : Mrs. Beverley Elian (Romania)
Judges comments : Excellent, very sweet young male

GARDEN OF ENGLAND CAT CLUB, SEVENOAKS 27 FEBRUARY 2010 (FB SHOW)
NIKOLAI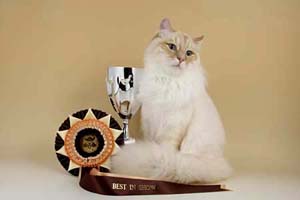 Photo by Bob Fox
Nikolai with his BIS trophy & rosette
1st CAC, Nomination & BEST IN SHOW
Judge : Mrs. Francoise Milcent-Dubois (France)
Judges comments : A good boy
BORYA
7th CAPGIB
Judge : Mrs. Beverley Elian (Romania)
Judges comments : Excellent, very sweet male
Owned by Heather Clayson
Borya became a Grand International Premier today, he is now known as
Fife Grand International Premier Lyndongraey Borya
SACHA
2nd CAPIB
Judge : Mr. Yan Roca-Folch (France)
Judges comments : Super condition, nice guy
Owned by Heather Clayson
STAR
Ex 1, & 1st CAP
Judge : Mr. Yan Roca-Folch (France)
Judges comments : Nice girl
Owned by Sandra & Tony Nicklen
SKY
Ex 1, & 1st CAP & Nomination
Judge : Mrs. Beverley Elain (Romania)
Judges comments : Very sweet girl
Owned by Sandra & Tony Nicklen

VIKING CAT CLUB - MILTON KEYNES 31 JANUARY 2010 (FB SHOW)
TUVIA
1st Kitten 6 - 10 Month
Judge : Mr. Martin Kabina (Czech Republic)
Judges comments : Lovely kitten
NIKOLAI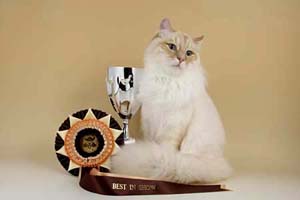 Photo by Bob Fox
Nikolai with his BIS trophy & rosette
1st Kitten 6 - 10 Month, Best in Variety, Nomination & BEST IN SHOW
Judge : Mrs. Waltraut Sattler (Germany)
Judges comments : Excellent
BORYA
6th CAPGIB
Judge : Mr. Fabio Brambilla (Italy)
Judges comments : Good condition, nicely presented
Owned by Heather Clayson